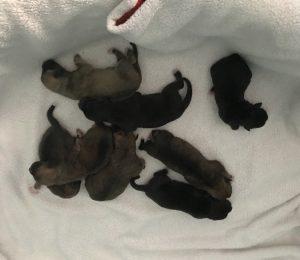 Jasper Contractors donated $50,000 to the
Pet Alliance of Greater Orlando
in the wake of Hurricane Irma, and we just received an exciting update  about how our donation helped!
The Pet Alliance transferred in 122 animals from Orange, Seminole, Lake, Collier and Duval County Animal Services shelters. Many of those animals have already been adopted to new families. They were also able to donate food, dog beds and other items to Key West SPCA, and because of that, Key West SPCA was able open a day ahead of schedule. The Pet Alliance themselves suffered some damage to the facility in Sanford, but our donation was able to cover the costs of fixing it.
Last but not least, one of the dogs that was transferred in after the hurricane ended up being pregnant. Her name is Molly and the executive director at the Pet Alliance decided to foster her through the birth and then foster the puppies until they're ready for adoption. She gave birth to eight healthy puppies last Wednesday.  One of the male puppies will be named Jasper in honor of our support. Our team was thrilled to hear about all of the great things that came from this donation and that one of these adorable puppies share our name!
If you're interested in adoption one, visit the Pet Alliance of Greater Orlando.
To read the full story about our donation, click here.